Troponin Guidance (HHFT)
Resource
---
From June 2019 Hampshire Hospital Foundation Trust moved to a new, high sensitivity Troponin assay. These tests are not reliable unless processed by the lab within 4 hours of being taken.
There is a new tick box on ICE for GPs that request Troponin that says:
I understand that troponins must be received in the laboratory within 4 hrs of collection and that any delay will cause a falsely low result
I have read and understood the Troponin requesting algorithm attached below.
Please be reminded that if, on the rare occasion, a patient should require a Troponin test, the patient should attend A&E to ensure a reliable sample result, or be referred to HHFT Phlebotomy, with the ICE request highlighted or phoned through as Urgent.
As before, requests for add-ons on samples that are > 4 hours old will not be able to be processed.
GPs in Andover are advised to send Troponin requests directly to the RHCH pathology laboratory to ensure they are received within the time frame.
A Troponin result of < 5.0 ng/L in a patient who presents with symptom onset ≥ 2 hours ago allows a rule out of MI with a 99.5 % NPV.
Pathway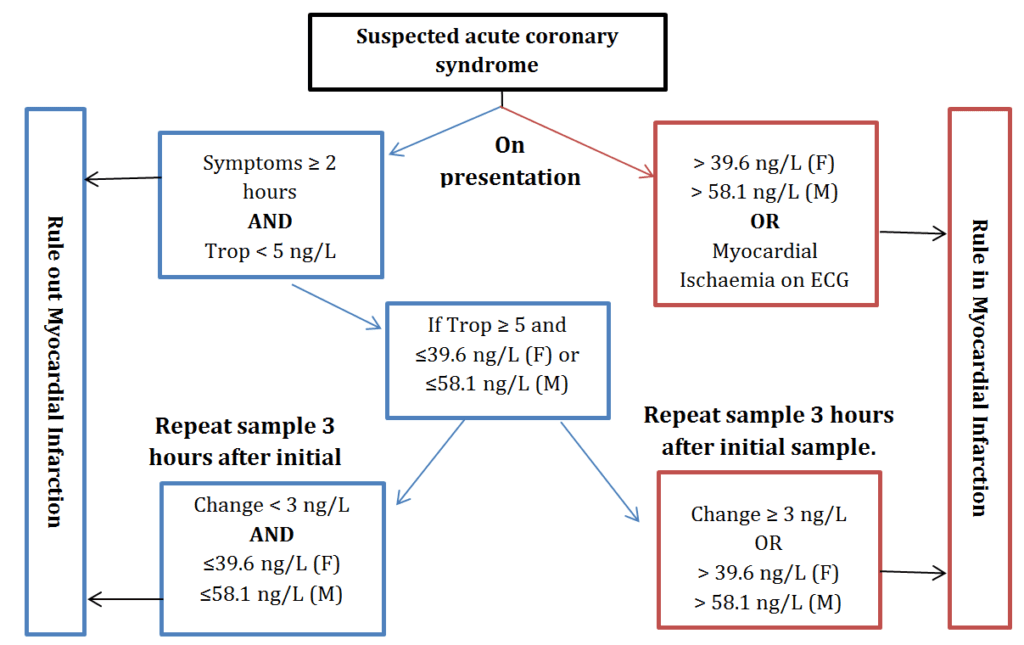 ---