Liver Blood Test Pathway
Pathway
---
Pathway Algorithm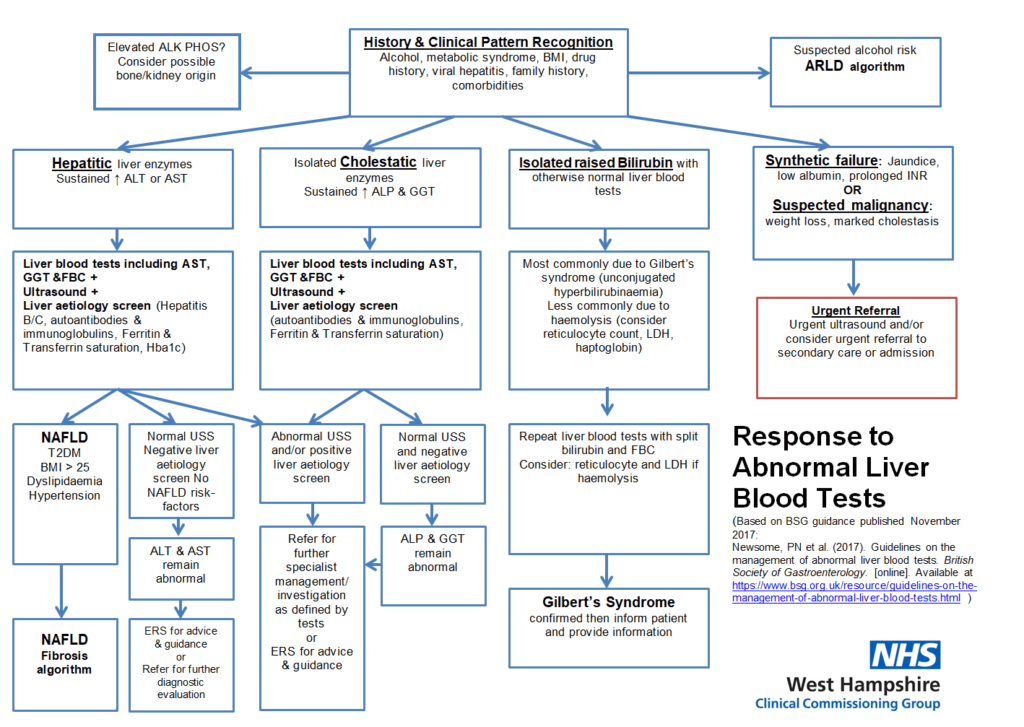 Liver Disease is under diagnosed;
It's increasing and the 3rd most common cause of premature death;
Traditional LFT's do not measure Liver Function;
Abnormal LFTs do need investigating;
Normal LFTs DO NOT exclude advanced liver disease – BE SUSPICIOUS
Most patients are asymptomatic until the end stages. "All roads (causes) lead to cirrhosis"
INTERVENE: 90% is preventable (long lead time – 10yrs) but most patients are asymptomatic. (Commonest causes are ALL preventable – NAFLD (now the most common), alcohol (with the worst disease trajectory) and viral.
To help the clinician to identify at risk patients (ALCOHOL, FAT, VIRAL), prevent disease, allow earlier diagnosis/staging Liver conditions and make targeted interventions to reduce disease burden and lost early adult life years.
To improve patient outcomes through education, understanding and self-management and through behavioral/lifestyle advice and treatment/follow up where appropriate.
REFER as per Pathway:

Emergency/D/w duty if synthetic failure or > 10xNormal

TWR according to Guidelines

Repeat Bloods within few days if >5x normal or weeks if <5xNormal, with further Liver Screen/CVS Bloods and appropriately timed USS.
eRS advice/guidance or refer onwards Urgent/Routine
Record alcohol

Screen at risk
Routine and opportunistic checks and if relevant conditions
AUDIT-C. If drinking more than recommended:

Code/register of those identified as XS intake/heavy or dependent, brief intervention, refer/decline in depth alcohol/lifestyle support, further lx as appropriate pathway. RECALL!

Identify those at risk of chronic viral B/C

Search / Identify (e.g. IVDU, Transfusion, Occupation, and Ethnicity/Travel).
Test – IMMUNISE / Refer.

HEP B:

Immunise those at risk of transmission e.g. CLD, CKD, Contacts, IVDU, Travel, frequent partner change.
HB+ve: annual flu vaccination, check Hep A immunity, reduce other RF e.g. weight/ETOH.

NAFLD

CODE high BMI, Brief intervention, Refer/decline exercise/diet? BARIATRIC, consider Risk.

CHILD Liver Disease/Obesity.
Liver diseases e.g. PBC, Hemochromatosis
Extra considerations
Remember other causes of raised ALT e.g. non-hepatic: thyroid, MSK, coeliac.
ALT <3x Normal and normal Ix Liver screen: no action needed – monitor.
Raised ALP and normal GGT: consider Vit D/Bone/Pregnancy (N.B. 3rd Trimester associated with poor prognosis)
Raised ALP <2x normal and normal Ix: Incidental.
Raised ALP and GGT <100 and other Ix normal: Incidental.
---
Related Items